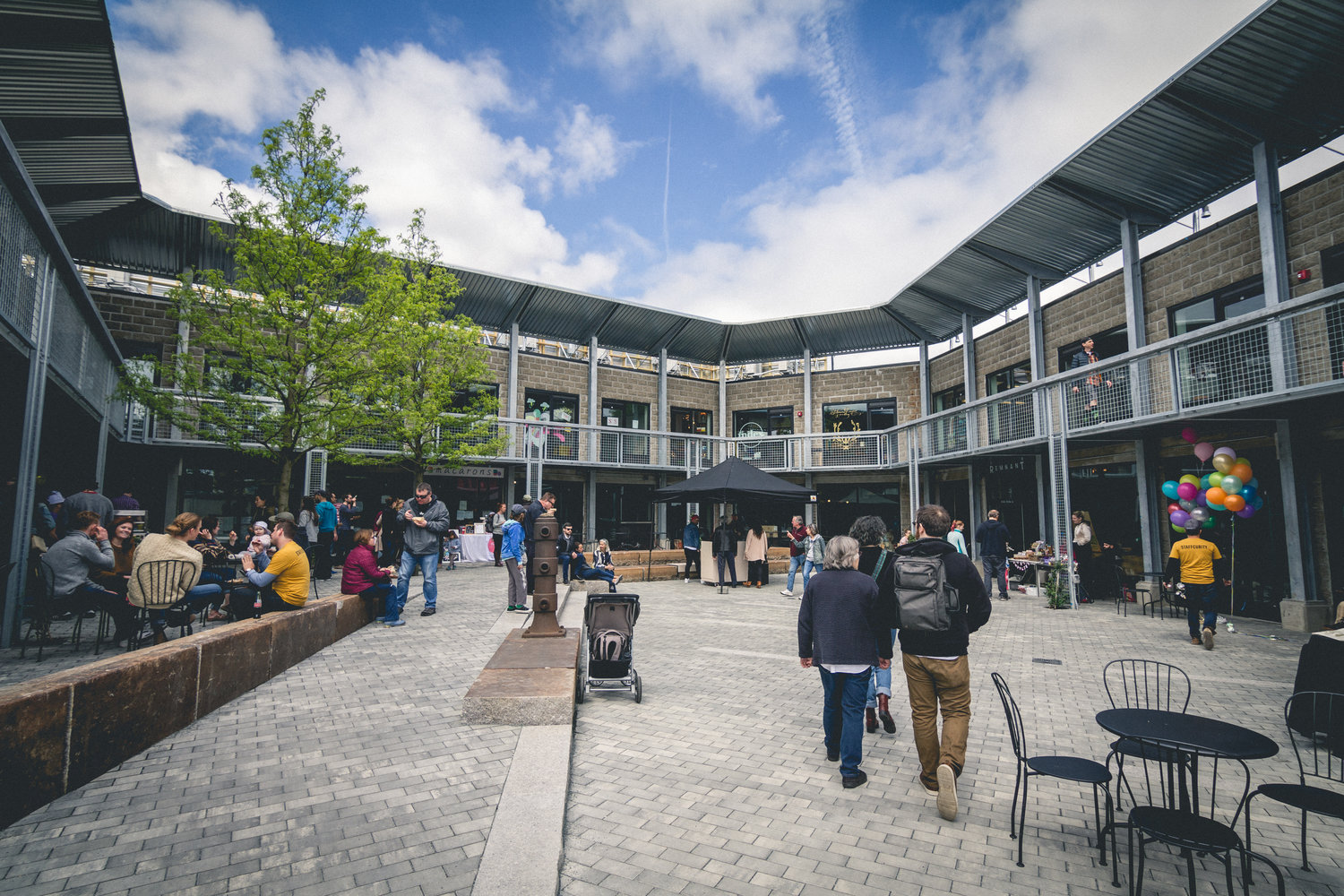 Photo courtesy of Bow Market
Bow Market, a wonderland full of small-scale storefronts and food stalls, is located in the heart of Somerville's Union Square. The innovative market opened its doors in May and features a variety of 30+ independent food, art, and retail spaces.
Here's a breakdown of some of the ongoing shops at Bow Market, including a mix of food and retail shops.
Food
With lots of food vendors to choose from, Bow Market is the perfect place for a one-stop food crawl.
Remnant Brewing
The first Bow Market tenant to open to the public, Remnant Brewing is a uniquely designed space where visitors can indulge in a variety of brews all year long. Grab a seat in The Taproom or take your beer to the Beer Garden—you'll feel like you're a part of the brewing process no matter where you sit as the sounds and smells of brewing a fresh batch of beer fill the air.
Jaju Pierogi
Vanessa and Casey White, the sisters behind Jaju Pierogi, have been making mouthwatering pierogis using their grandfather's recipes for well over a decade. The Jaju menu includes everything from traditional potato and cheese pierogis, to jalapeno cheese pierogis, to kielbasa sliders. Enjoy some fresh at the market—they're even better when paired with a beer from Remnant Brewing!—or take some to go.
Perillas
Hungry? Head to Perillas, one of Bow Market's newest food pop-ups, for a Korean Bibimbap Bowl brimming with bulgogi beef, rice, kimchi cucumbers, and more. The bowls are fully customizable and every bite will immediately transport you across the world. Perillas is only open for six months, so go now before it's too late!
Retail
From thriving plants to one-of-a-kind art pieces, the shops at Bow Market will delight visitors of all interests.
The Happy Cactus
At The Happy Cactus you'll find everything from succulents and cacti to ethically sourced butterflies and crystals. Bursting with a variety of Mother Nature's finest creations, this small storefront is a beautiful oasis within the concrete jungle of Somerville.
Calliope
Greeting card enthusiasts will love browsing the colorful and eclectic stationery available at Calliope. From joyful cards of congratulations to thoughtful notes of sympathy, you'll find the perfect card for every occasion here. Buy a card from this shop any day of the week and you'll be sure to brighten someone's day.
Kmoe
Part design studio, part retail shop, Kmoe offers patrons an entree into all things design. From one-of-a-kind pieces, like a vintage headlight of a 1920s car, to more consistent offerings of leather cuffs, there's something for everyone here. Make an appointment during the week to browse the shop, or visit over the weekend and find something unique that speaks to you.
And while you're in the area, don't forget to stop by our office in Union Square to say hello. We're ready to help make your Greater Boston real estate dreams come true!